[element_revolution_slider _id="831149" alias="foliage-home-1"]
Free Shipping on Orders
over $49
We're commited to the
perfect fit, always.
If you don't love it, you have
60 days to return it.
Latest blogs
We're getting closer to finalizing the "bolsterlock" version of the Whippersnapper. The design and all dimensions will stay the same, but with the addition of an integrated front bolster. This will allow us to expand our build options to include a plethora of other materials. We've worked with such build styles early on, since 2013, since our first folders were linerlocks, so it's exciting to bring it all back to that once again. Sign up below for updates, notifications, and early bird perks. If you've already signed up on the Whippersnapper page then you'll automatically be updated on this variant of the model.

To mark the end of the first run of the Whippersnapper we are offering a limited amount of builds all based on these shaped inlays. The inlays will span most of our familiar options in Titanium as well as expand into other materials like copper, fat carbon, Fedokume, and others. They will be available in an upcoming Olamic Table drop, and also from DLT Trading and Smoky Mountain Knife Works.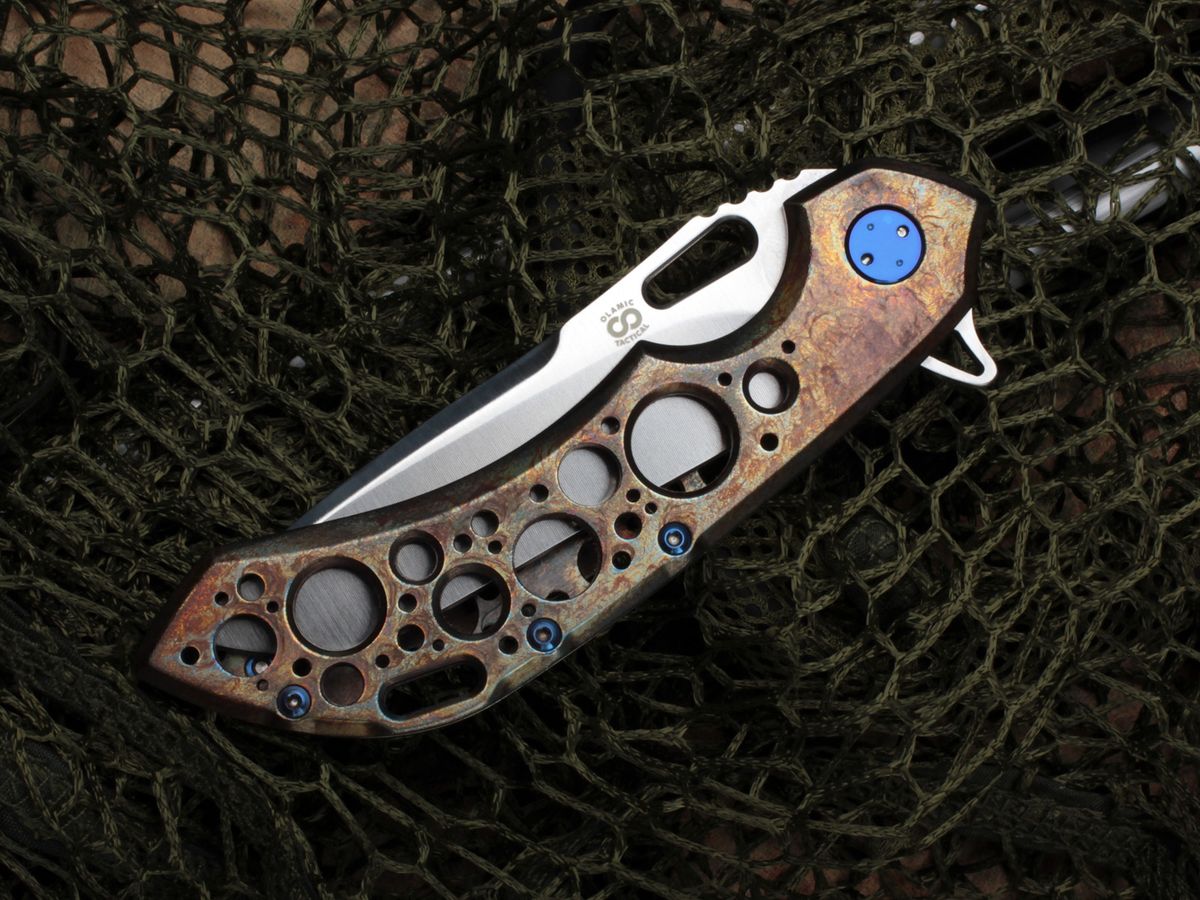 We came out with the original Entropic finish in summer of 2018, and were the first ones to do so. In the months that followed we worked on perfecting it while keeping it exclusive. That's changed since then and Entropic is well on its way to becoming a household name. However we never stopped on exploring it. This post is about one its newer variations called Antique Entropic. In the gallery below you'll see that it's characterized by deep rust tones, uniquely worn textures, and the aesthetic of an artifact from outer space. Yet the unpredictable chaos that was the soul of the original Entropic is still there. Because we're also able to get distinct bright colors that create a recognizably different look, there is also a subset called Antique Neontropic. This finish can be combined with most of our styles including rocks sculpting, Acid Rain, Funky Holes, inlays, and standard hole patterns. For more images of what's possible visit the Build Assistant and in addition to having its dedicated section, you'll see Antique Entropic in other sections, when combined with specific styles and options.